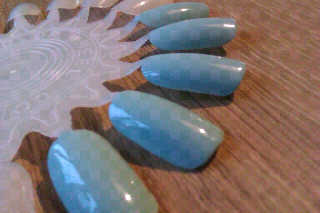 Collection 2000 hot looks nail polish in Button Moon.
This nail polish is really nice, its a baby blue colour, the colour payoff is very good you only need two coats and it lasts a long time on your nail, it lasted about 4-5 days on mine.
I did have a picture of this on my actual nails but my brother deleted all of the pictures on my phone, i actually almost killed him lol.
Anyway so these are the only pics i have, i decided to paint the polish on the nail wheel which i recently got from eBay for like £2, because my nails have started chipping and i didn't think you want to see chipped nails.
I'm using a blogger app on my phone so i don't know what its going to be like but i hope its okay, the pictures my be a little blurry but I'm not sure if it is im sorry i hope you can still see it okay.
Thanks for reading and please follow
Louise
Xxx